AMNESTY INTERNATIONAL - I'M HERE

About the Organisation: Amnesty International is an organisation that leads to global movements present in more than 150 countries that work to ensure that human rights are recognized and respected.
Mahadine faced a life sentence in Chad because of his Facebook posts criticizing the corruption of his government. Amnesty International campaigned for Mahadine's release because he did not deserve to spend the rest of his life behind bars just for daring to express his opinion.

For the "I'M HERE" online campaign, Amnesty International collected a number of photos in November and December for Mahadine, a blogger facing life in prison in Chad. The portraits were assembled to form a giant mosaic that was hand-delivered to Mahadine and his family in February 2018. Mahadine was released in April 2018.

Imhere.amnesty.ch was the platform of the digital campaign.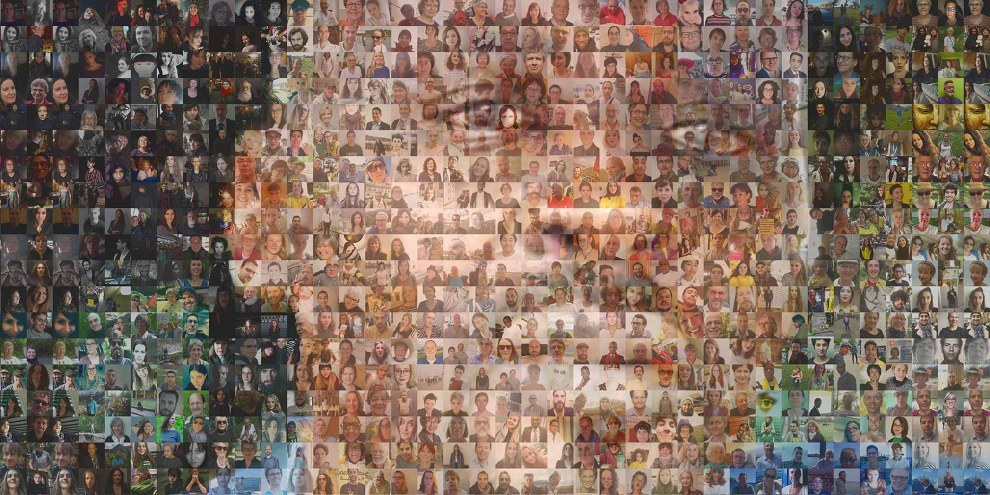 Campaign Teaser
ONLINE BANNERS
BERN 2018 - STREET ACTION
In December, "I am here" at the main station in Bern attracted attention. The mobile screen and animated elements of the live gallery motivated spontaneous passers-by to join the human rights movement with their selfie.
During the photographic action for his release, Amnesty received about 2,500 photos of faces that were sent, in mosaic, to Mahadine's cell. The Chadian government also received a bill to put pressure on the government over the release of Mahadine.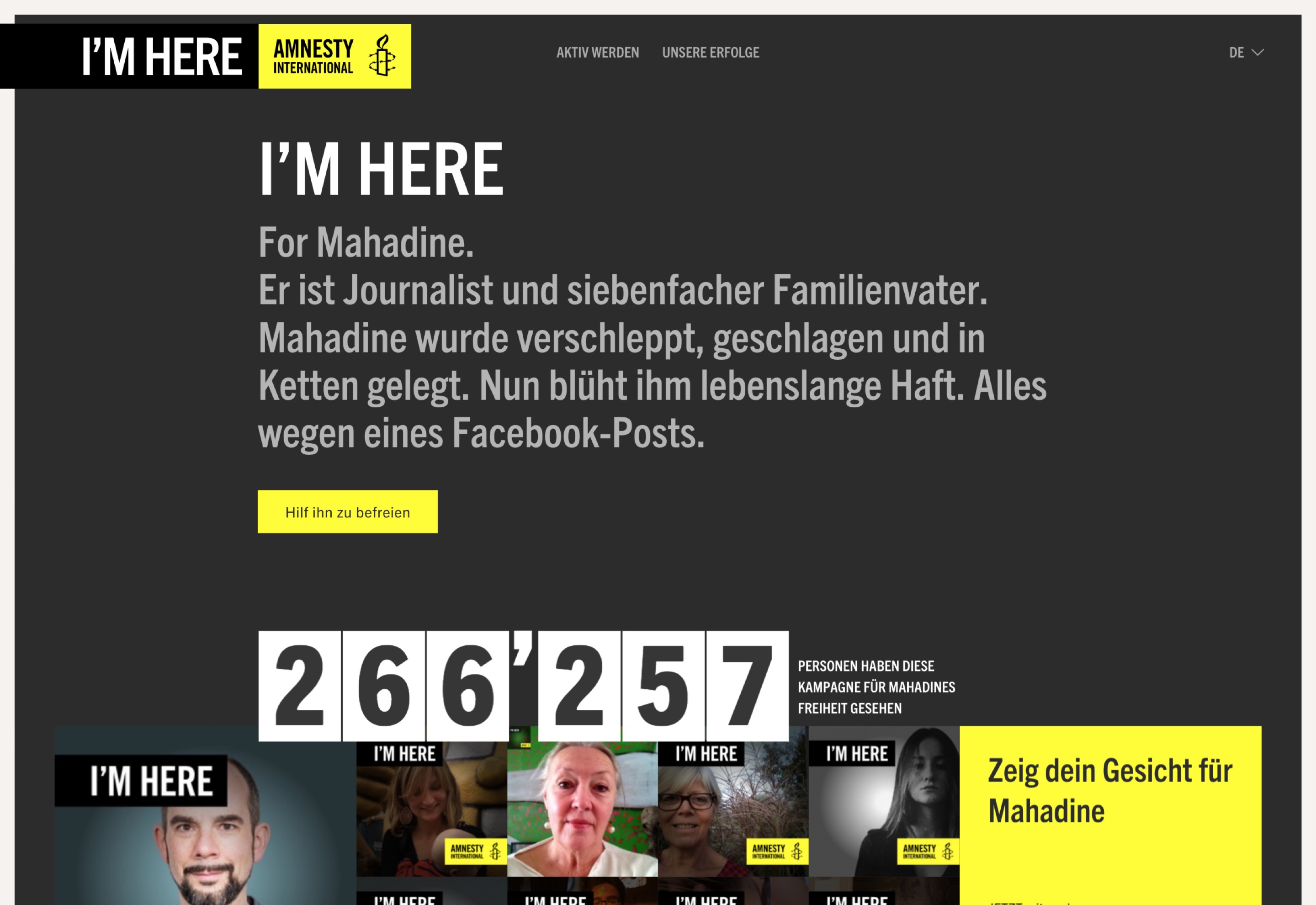 Finally, Mahadine was released after spending 18 months in prison.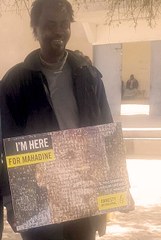 THE BEST SELFIES VIDEO TUTORIAL


A professional photographer explains "How to take your best selfie" with a typical Youtube video tutorial. In the end, the photographer what you could do with your Selfie also the Social Media platforms where you can share it. Now, is very easy to help people with just a selfie.

FILM: AMNESTY SELFIE TUTORIAL
INT OFFICE – DAY


Brian Adams, a professional photographer and musician, is working in his photo studio, teaching us on how to take the perfect selfie.

BRIAN: Hello friends, today I'm here to teach you amazing techniques on how to do a professional selfie in only a few steps. When you get to the last part of the video, I assure you will have a lot of more of those likes on your social networks. All we are going to need for this tutorial will be our mobile phone and internet connection.

BRIAN: First, we need to select a place with a dark background.

BRIAN: Then, we will use the light from our mobile phone to put the spotlight straight on our face.

BRIAN: Now, an important moment has arrived. The facial expression. There are tons of variations as you guys now. We have the duck face; the "I woke up like this", the arrogant one, you name them. But now, forget all that and think about something very serious. Try to think about a person that has fought for human rights and is now imprisoned for it. Give this a few seconds and take it in. how does it feel?

BRIAN: Now is the time to do something more with your selfies. Choose Amnesty's
filter "I am here" and upload it to the website. Then please, help us to spread the message and share this selfie on your social networks. Idil Eser stood up for human rights; now it's time we stand up for her.



FUSED TO BLACK



Emotional music appears. Brian disappears from the screen and the portraits of people who are currently in prison begin to appear.

OV: Make your face count for something. I am here.




STREET MARKETING